So I've got excellent news: definitely booked a spontaneous bus trip last night to visit Jenny in Leuven, Belgium for the weekend! Thus, I'm obligated to sit down and reminisce about my times in Prague before I get too far behind in my blogging. So finally, on to

The City of a Thousand Spires.



I didn't get home from that Halloween party I mentioned last blog until pretty late (though it ended up being a free taxi ride!) and our flight left at 9:30 a.m. which meant we had to be at the airport shuttle bus by 6:15...yuck. Fortunately my alarm went off, and there was only one minor glitch when I realized I hadn't copied down my confirmation number. Amusingly enough, both Alex and Rach were still up despite it being rather late Florida and Chicago time respectively, so I had no trouble finding volunteers to get online for me. We ended up running into a few of Mary Margaret's friends from Sewanee, her home university, at the bus station who are studying in Aix en Provence this semester

.

"Oh hey guys, where you headed?" "Prague, you?" "hahaa no way, us too..nice." So all five of us jetted on over to the Czech Republic for the weekend.

We had to split off upon arrival in order to find our hostels, so the rest of that day M.M. and I spent wandering around downtown Prague exploring. I've been fortunate thus far that both of the hostels I stayed in were within walking distance of the busier parts of the cities I visited. During our wanderings we came across the National Museum that offered a great street view, some cute Russian Matryoshka dolls for sale, a wayyy over priced McDonald's that lured us hither, a random Communist museum, the Beatles, and magnificent architecture including the Powder Tower. As follows: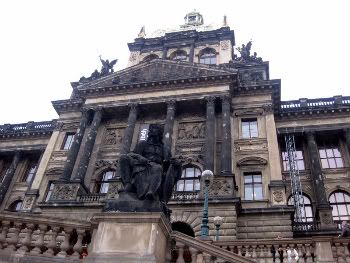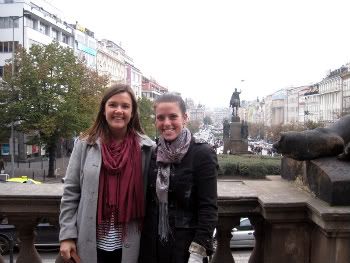 BLISS.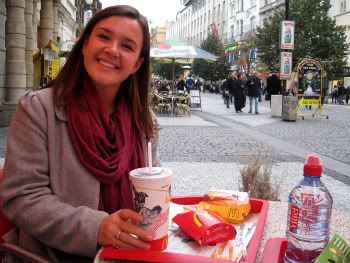 Hahaa.



What're

you

guys doing here??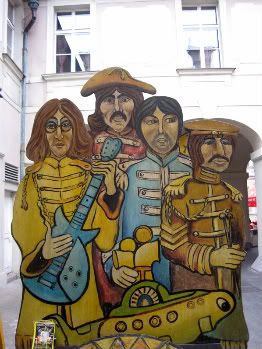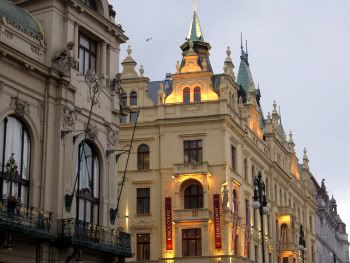 Powder Tower and Powder Sarah.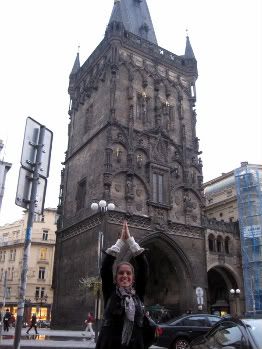 That night we kept it pretty low key. While getting ready back at the hostel we bonded with a young German woman, beautiful and adventurous who spoke English pretty perfectly and had some hilarious stories of her travels all over the world, above all Africa. She was one of the first people we encountered abroad who really empathized with us when it came to the topic of learning a new language and having the confidence to practice it despite how silly you may sound. She herself was an Italian teacher in Germany, had studied French for a time, and said that her English speaking was largely practiced in Africa. Wow. AND she still admitted to being slightly insecure when it came to accents, conjugations, slang, etc. Finally, someone who's humble enough to admit a little difficulty!! I know we Americans have no trouble at all saying we can no longer speak English very well and haven't gotten much better at French, ha. The French on the other hand, well let's just say they sometimes tend to live up to their somewhat arrogant reputations. Don't get me wrong, they're all beautiful English speakers, but I don't personally feel the need to correct their every grammatical error the way some have with me. (I do that more when it comes to English speakers though, so I suppose I should bite my tongue.) Anyhoo, she gave us a great impression of Germany, such a sweetheart, and it was uplifting to encourage each other in our bilingual (or in her case quasilingual) endeavors.

We finished off the night with some strong Czech ale at the cute restaurant next to our hostel and followed some locals to another pub called "Le Chapeau Rouge" (I know right, I come all the way to Prague to go to a French pub..) that just happened to be en route past

the

most magnificently (or should I say Maleficently) creepy

Sleeping Beauty

-esque castle I've ever seen. We'd accidently ended up in the middle of Old Town Square absolutely freaking out over the view, locals

and

tourists staring.




A comparison. [see background]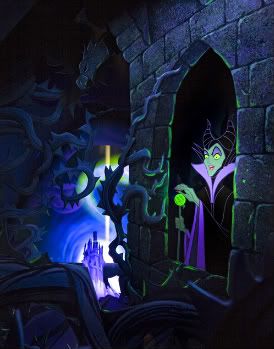 Prague Astronomical Clock.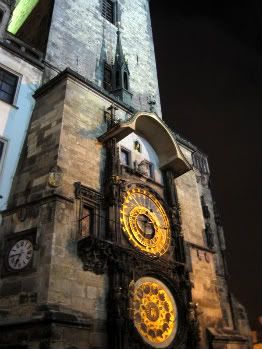 Earlier at the homey Czech restaurant.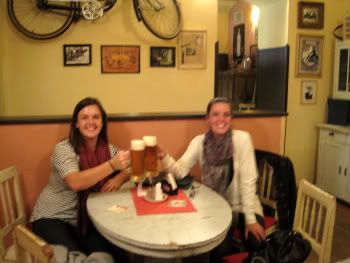 The next day we wandered around the Prague zoo which was slightly ghetto but still had a wide variety of animals. Not too much excitiment, but it was fun to see what a zoo is like in Europe, AND I got to see

cats

!! I miss Figment (my lil black panther) sooo much, I've been thinking about him a lot lately. Plus, there was yet another great view, and the best part was a candy-colored Czechoslovakian mansion across the street. I made Mary Margaret walk along the road with me for a while to get some pics of the countryside, but eventually we caught a bus back to find lunch. Too much Czech beer and an empty stomach makes for unhappy Americans. So what'd we do? Ate at a sports bar with quesadillas and chicken wings. That plus McD's=0 for 2 on the ethnic eating scoreboard. Ahh well, can't be cultured all the live-long day.

I <3 flamingos.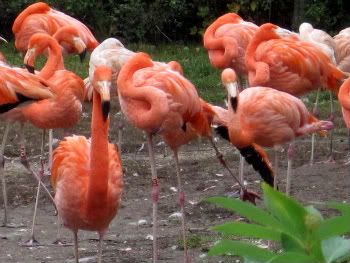 and tigers.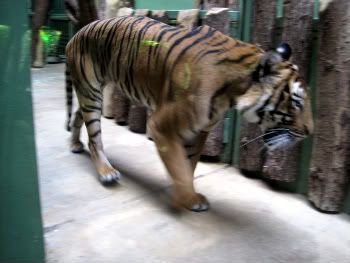 and elephants.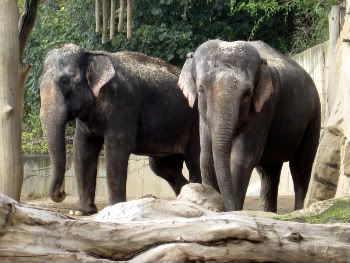 but this kitty definitely won.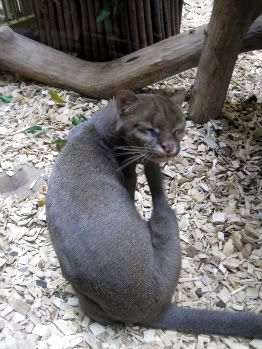 View and M.M.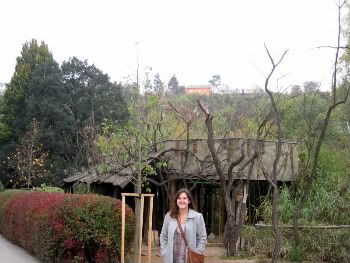 Mansion and its gardens.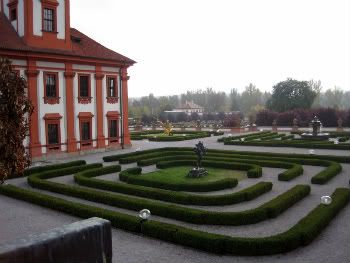 Wee me.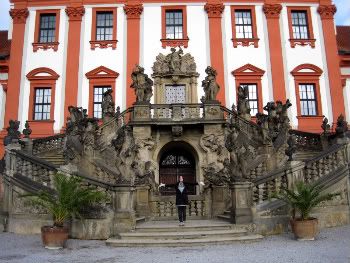 Roadside.



We spent the rest of the afternoon at St. Vitus Cathedral/Prague Castle (the same thing I guess?) which required walking up a bazillion steps and fighting crowds. But I think this place beat the other castle for

Sleeping Beauty-

ness and was definitely just as captivating. Absolutely crazy that someone figured out how to design and build monuments like that.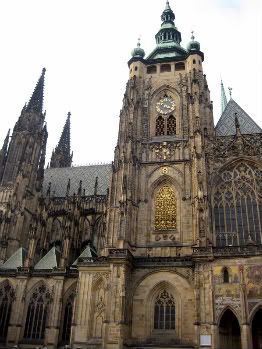 Not the most historically informative trip I've ever taken, but we managed to keep ourselves entertained. It was either the hair-raising gargoyles or the hot cocoa, not sure which, but we got into a giddy mood, and this was the result:

Handstands: her idea, but I went first.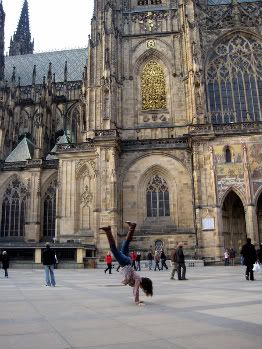 Hair-raising gargoyle.



M.M. as Quasimodo; she ascertained that the size of the dungeon door meant he'd changed locations.



This one didn't break like the Oslo guard...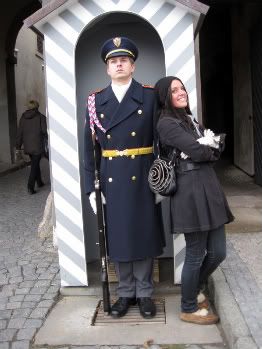 Another boundless view.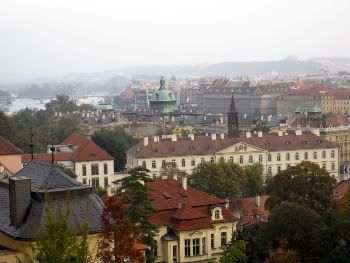 and boundless stairway.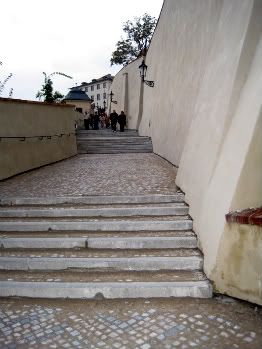 That night we met up with not only the three Sewanee peeps but also three other girls she knew studying in Florence! It was a great surprise having such a big group to go out with. We finally ate an authentic Czech meal of sausages, veggies, and sauerkraut and went on a Prague pub crawl that consisted of one British guide leading at least 40 tourists around downtown Prague. Ha, funny scene. At one point I asked him how the babysitting was going and he replied with, "Oh this is nothing, in the summa theh's at least 300 people in

one

outing." I like living abroad and all but not so sure I'd want his job.

Mary Margaret and I managed to go along for half price since we thought we'd be leaving early. But the night just stayed too young, and we

had

to be able to say we'd been to the biggest club in Europe which was the last stop. Wasn't that impressive, but we danced a lot, bonded with the Sewanee crew, and made friends with an adorable Brazilian girl who kept saying we were "joost soo beeyuuteefoool!!". Such great memories.

Definitely worth miraculously waking up the next morning to a dead cell phone/no alarm and almost missing our flight.....almost.

[Thank the Lord for daylight savings ;]


The Abroad Crew.