So now that my birthday, Chantilly, and the Oslo trip have come and gone, I've finally got some time to share a few anecdotes on Paris Fashion Week 2010 Spring Collection.

[...and let me just preface this by saying that my new favorite reason for being short is the automatically attached stealth necessary for sneaking into a warehouse full of people over 6'.]

Once upon a time on an ordinary Wednesday afternoon in Paris, Madamoiselle Sarah Larson decided to spend her free afternoon wandering around the 13th arrondissement in hopes of coming across maybe just a few celebrities and a whole lot of style. Were her lowly hopes dashed? ..Nay friend, t'were both a grand success.

Unfortunately, Mary Margaret had to go on another Louvre excursion with one of her art history classes that day (I know,

had to

..our lives are so daunting). All the same, I was kind of disappointed because I'd already decided to scour the streets (and hopefully the catwalks) of the Dress 33 and John Galliano fashion shows that day for anything and

anyone

related to Paris's fashion frenzy and didn't necessarily want to go it alone. However, I had no one else to call, and I wasn't about to let Fashion Week get away from me without having at least

attempted

experiencing it in some way shape or form. That Wednesday was the last of the "headliner" shows if you will, and some kids from my program had already found their way to the outskirts of Alexander McQueen the night before, so I figured finding show addresses/times wouldn't be too difficult. Sure enough, my trusty jedi internet stalking skills (thanks be to Rach, oh Yoda of Google) proved adequate in finding both location and commencement. I got to the general area around 5 p.m. but wandered around looking for a bathroom for about an hour just to waste time. I knew that John Galliano didn't start until 8:30, but I figured ya never know if Gwyn Paltrow or Rhianna are going to casually pass by early for interviews. A good-sized crowd had formed at the end of a partially blocaded street, and I assumed a show had just ended because a stream of more gigantic, designer hipsters that you can ever imagine were clonking high-heeled toward the Metro, Chanel bags in hand. At one point, security had to move their makeshift guard rails aside in order for said beauties to get through to the main street, and I watched as a few bystanders like me casually pushed their way through to the other side. Stalking rule #1: You see a perfect chance for getting past security, take it...so I joined the pack. I really don't think they cared much at that point anyways, there were too many people around to know who was really allowed behind the gate and who wasn't. Speaking of which, I think I may have actually looked slightly the part of either fashion assistant or tired journalist, thus aiding my eventual all-around access. My outfit consisted of big, white headphones, gray blazer, tee, jeans, Ugg slipper shoes, and my backpack (having come directly from school); a far cry from the hundreds of cropped leather jackets, Louboutin stilettos, and Lilo-style-Hervé Léger mini dresses that plastered the skinny bodies surrounding me. Nonetheless (and I'm proud to say), after wandering down the sidestreet toward the fashion warehouses, I stopped to 'check my phone' next to what was assumedly a group of models having their picture taken by a paparazzo/blogger-man and was straight-away asked by the dude if he could take my picture next! I tried my best to smirk and pose like an Olsen but couldn't help thinking, "ha, if only he knew.."

Stalking rule #2: You see a massive line forming with only flimsy caution tape barring entry, duck under and join the masses...I mean, what's the worst that could happen..

And literally, praise the Lord I did because it just so happened that

right

after I got in line under a convenient overhanging it started pouring down rain. It was then that I realized how far I'd gotten and thought to say a quick prayer humbly asking God if I could

possibly

get to see the Galliano show. ;] (Hey, for some reason or another He decided to answer my dad's prayer with a yes concerning the whole meeting Shia,

Eagle Eye

incident...a story for another rainy day perhaps.) In any event, I was grateful and relieved not only to be dry (we all know 'wet-dog' hair does not bode well in the fashion world) but also that the line started moving as soon as I joined. I could see some security ahead so that's when my heart really started beating. Fortunately, this ended up being an earlier show called

Dress 33

that allowed somewhat public entry and didn't require any kind of invitation. All that worrying for nothing. I recognized a pair of girls my age (and my height) on my way in who'd been out on the street by me earlier and noticed they were speaking English. Phew. We buddied up and found a place to sit front row towards the middle in order to have the perfect view of what reminded me of

some crazy,

Xenon: Girl of the 21st Century

, futuristic fashion. Rach said Lady Gaga; one and the same I suppose. It was

such

a rush, couldn't possibly have asked for a better first fashion show experience!

..but don't worry there's more.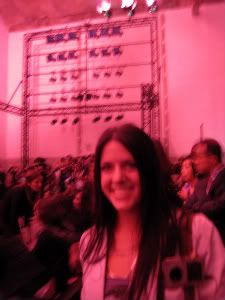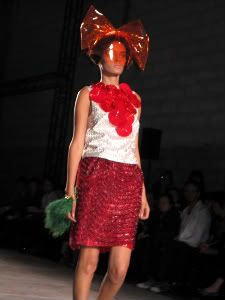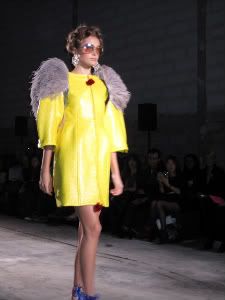 Reminds me of an old Barbie dress my sisters and I had.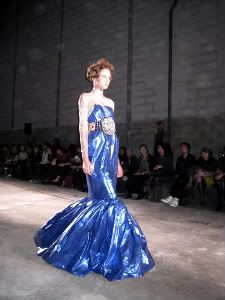 A dude bag!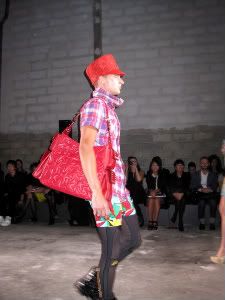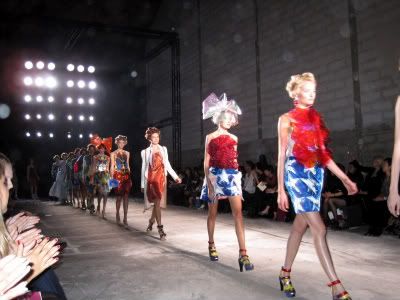 While I was waiting for this show to start, I turned to one of the American girls next to me and asked if they thought the Galliano show would be difficult to get into. Here's the discourse of the conversation:


Girl of Little Faith: "OHH yah, there's NO way to get into that one...you have to have the invitation in hand

and

have your name on a list."

Me: "Well, what if told them I'm Cory Kennedy or Peaches Geldof or some silly internet celebrity like that, 'oops sorry man, forgot my invite'."

G. of L. F. : "......"

Me: "
Ya know, like a mediocre celebrity who'd for sure be coming to one of these things but not necessarily recognizable..?"
G. of L. F. : "No, they like

know

everybody who's on the list."

Me: "......"

G. of L. F. : "I mean like, I got in to one of those big shows in New York before, but I had an invitation."

Me: [wheels turning..]


...if only she knew.
(hah,

déja vu

.)

Somewhere amongst my prayer, her pessimism, and the energy charge of the

Dress 33

show was when I resigned myself to future victory. Fortunately it had stopped pouring by the time the show was over, even though I remembered my umbrella was still in my handy-dandy school bag. Once again I chose to follow the crowd, even though this time it was a bit smaller and a bit more intimidating: two wealthy-looking older couples dressed like they were going to the opera or a funeral, couldn't decide which. They led me to a different warehouse next to the one we'd been in, and here's where the strategizing got a little more difficult. A better-dressed crowd, I daresay, was waiting on a long platform in front of a bigger warehouse that you had to walk up a few security-guarded stairs to get to. These guards looked a little more official than the others, so I decided to survey awhile before acting. It was then that someone bumped into me, and I noticed a pap had managed to weasel his huge camera under my umbrella's protection. I laughed and muttered a 'pardon,' but he was all camera-action when a tall brunette came sauntering up to the stairway. Her posse arrived with another group of giants, and h
onestly I may not have been paying attention if not for his serendipitous nudge
. Stalking Rule #3: When one is short, tall people aid in blending in. So, I slunk in behind all of them, and for some reason the security said nothing. Who knows if this is skill, luck, or height on my part or just blindness/apathy on theirs. Doesn't really matter I suppose. I pushed past the people waiting on the platform into yet another waiting room, but hey, it was dark and dry. I was sweating bullets for about 15 minutes after noticing that

everyone

had an invitation in hand that was shaped like one of those black and white film-clapper things. I brainstormed and decided to dig in said handy dandy backpack for a black and white notebook, just to be holding

something.

Finally the masses started moving through a small corridor with even

more

security at the end, and I'm thinking, "This is it, I'm guna get kicked out.."
[ahh the pessimism of others that so easily roots itself within...]


But I wasn't. So thanks God, another yes ;]


I held on to the notebook for a while just to look prudent, but finally put it away to have a better handle on my camera. And here's when I went from being junior fashion assistant to junior paparazzo...no shame. Ironically I chose to stop and wait for celebs at

the

best portion of the catwalk, because right after I settled into an aisle without many people blocking my view it started pouring Hollywood right next to me. First I spotted NYC socialite and

MisShapes

nightclub entrepreneur Leigh Lezark (don't ask me how I know all of this..Rach understands). She's got great style, and because of that I've always had a major girl crush, not guna lie.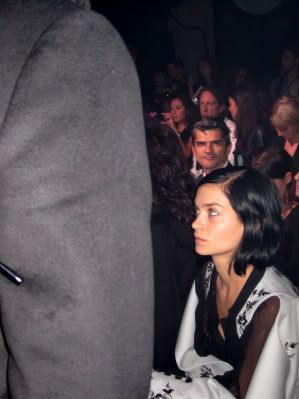 Lezark's awesome shoes.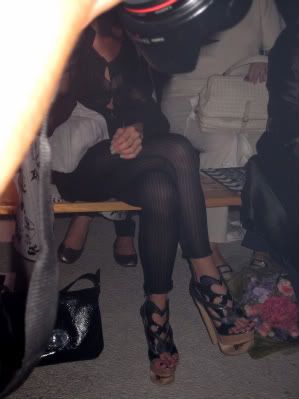 After her came Femme Burlesque, Dita Von Teese. Not a huge fan, but she looked pretty I guess.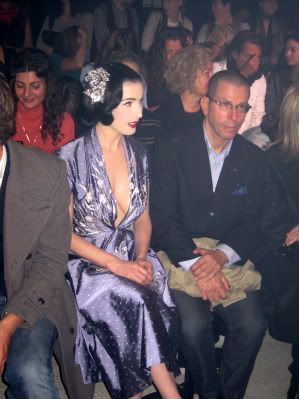 Prince showed up next, but I couldn't get a great picture because at first all I could see was his European, techno songstress-looking girlfriend, and I figured she was nothing special. Kind of a bummer.

His arrival.



Blurry Prince.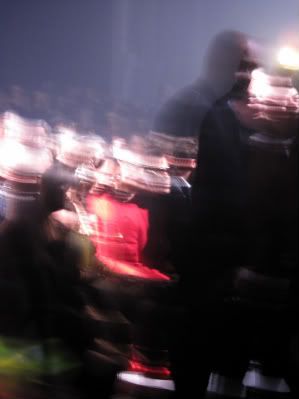 Last but not least and

fashionably

late (ba-dum chaaang), cutie-pie Katy Perry and that doofus Russell Brand took their seats. I didn't get these pics until after the show when I raced another paparazzo to get up to Katy, but I definitely won. Unfortunately this meant first being smashed up against vile, British trash Russell who wouldn't look at me even though I was politely tapping him on the shoulder. I mean, c'mon...a sea of obnoxious media-men and one young girl with a measly, light-blue digital camera...HAVE A HEART, RUSS. Regardless, Katy was a gem for the cameras, giggling and earnest about how great all the fashion was.

I felt slightly silly, but hey...you would've done it too ;]

ew.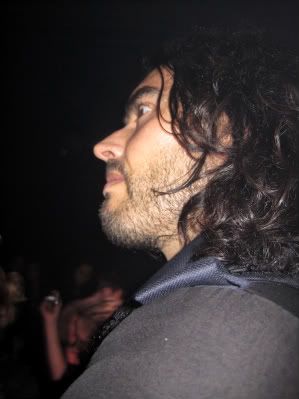 yay!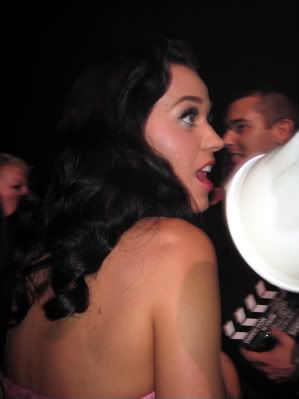 It was funny; I realized that the paparazzi's move from one starlet to the next would leave the previous sitting in the shadow of the new one's limelight looking somewhat miffed and bored, regardless of
how camera shy they'd been acting when it was their turn to be photographed
. Even I started to become a hound for 'the next big star' in my picture taking. That first picture of Leigh was a mistake...I was trying to get to Katy.

'Celebrity' is such a mystifying thing, I don't think I'll ever quite understand it. So trivial, yet so much fun and intriguing. Ahh well, who knows how long the intrigue would last if the limelight became

your

light.

Really though, despite all the celeb-mania my favorite part of the night was still the show itself:

Moulin Rouge

-slash-

Ziegfeld Follies

style music, ambiance, and couture. Everything was lacey, silky, flowy, and flirty. [I really should just work for

Vogue,

I'm corny enough. ;]

P.S. The big balls were huge soap bubbles! You can see someone pop one in the middle of the first video, they left a powdery film all over everything...weird.

The suspenseful beginning..


My fave.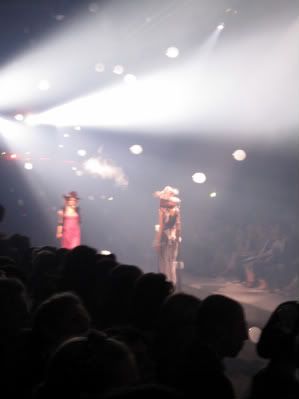 The finale walk.


Creepy John Galliano.



After the show ended and I got my pics of the new couple (yes, K. and R. are together for some little-needed media attention), I was yet again caught in a mass of people headed for what I thought was the exit. Lo and behold, I was feet-off-the-ground carried into the show's backstage area. Security was calling for wrist bands, but I wear too many bracelets for them to have known which one was official, so after holding up a heavily accessorized arm I was in. And this,

this

rivaled the actual show for being the best part of the night.

SO

stereotypical: fishnetted-legs, costume bags, caboodles, hairspray, q-tips, runny mascara, paparazzi, Russell Brand ogling the

bare

legs, flustered make-up artists, vanity lights, and more legs

everywhere.

OH! and I can't possibly forget the free dixie cups of champagne in the back...I took two ;]

Chaos.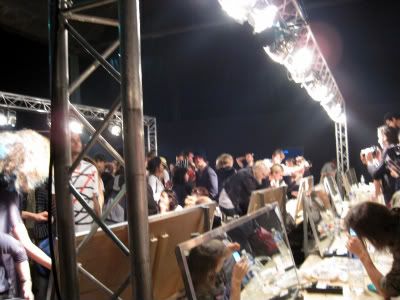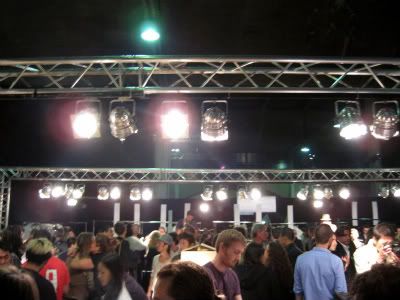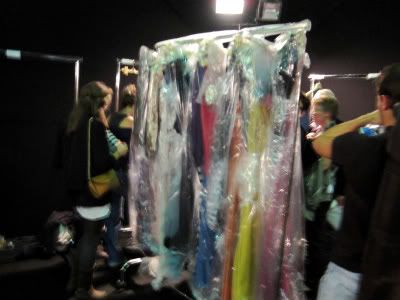 ;]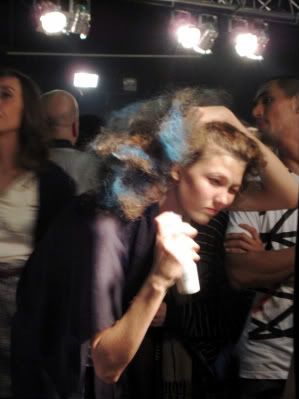 The only sweetheart who'd look at me whilst having polish removed ;]



Professional pic before the show!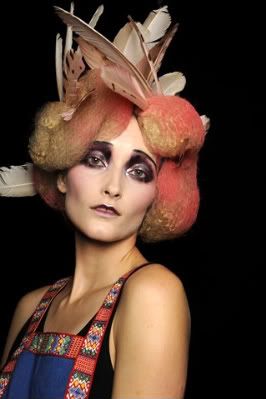 During the show (c.o. Google). Lovin the gloves.



Victory Bubbly!!!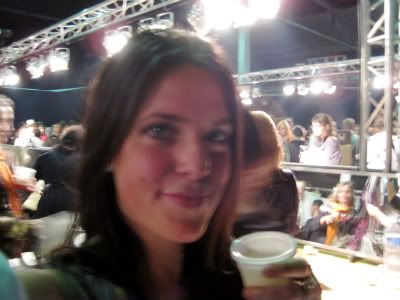 People started clearing out after around 25 minutes, so I casually drank my champagne and decided it was time to head out. And as I wandered out into the arena that before had simulated so much glitz and glamour, I realized it was all as put-on as the nail polish of that pink-haired model. So superficial.

But it didn't matter anymore to me. I put on my headphones and allowed myself to gloat for just a little while about how much I'd milked Paris Fashion Week for what it was worth (if I do say so myself).

And yes, I strutted down the catwalk on my way out.

;]