So it's finally the weekend, and I just woke up from a much needed nap that's helped cure some of my congestion. I swear I really do have the pig flu this time, but then again I've always been a slight hypochondriac. Regardless, it gives me a good excuse to take sick leave from the pre-Halloween festivities here in Paris, save up energy for the

actual

'All Souls Day' fêtes on Saturday, and get lost in blog world for a little while.

Oh, and can't forget my perfect cold-curing, French fixes for later on...

Chocolat

: the movie and the ice cream. ;]

But talks of my travels must come before Johnny. I can't believe it's already been two weeks since I went to Oslo! My dad warned me that time here would turn into some weird continuum thing, and I wouldn't even realize I'd been gone at all...unfortunately he was right. But I just keep telling myself that I've got a little less than two months left, and so much has already happened in that period of time that I can't wait to see what's left in store.

So ugh, enough stalling. OSLO! I'm not sure if I'll ever have the privilege again in my life to travel to a foreign place all alone (work unrelated), and I highly suggest to anyone who has the opportunity to take advantage...what a

liberating

experience. I had gotten flight tickets for pretty cheap with the intentions of meeting up with my friend Jenny, a fellow study abroad student from Chicago living in Brussels. Unfortunately, she had too much studying to do for midterms and decided she couldn't make the trip fly. Bittersweet because on the one hand that meant I could take her spot in the hostel (as of 3 days before I left, I hadn't been able to find a place to stay..lol), and on the other hand that meant no Jenny!! :[ Everyone from my program thought I was crazy for going alone except for one guy Brian who said, "Oh you're outgoing, you'll make friends." He called it.

Getting there involved a 5 a.m. train to a bus to the airport to another bus to the hostel where I small talked with my roomies, four kids living in Paris for the semester (ironic) and two Scottish girls who ended up being great companions. Brian was right, friends were made! However, I decided to go out exploring alone since everyone else was pretty tired, so nine hours of solitary travel later I was wandering around downtown Oslo with nothing but my headphones and a map (I'm terrible with maps and am SO proud of myself for finally figuring it out). I was successful in finding both the Natural History and Botanical Museums as well as their beautiful surrounding botanical gardens. They offered a nearly aerial view of the city, I was in Heaven.

Bus ride into Oslo.



The gardens.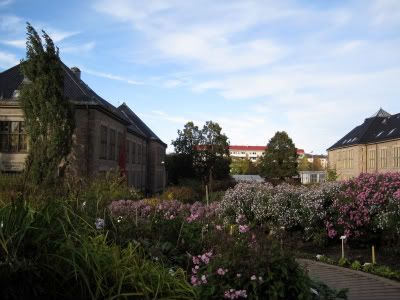 Natural History Museum.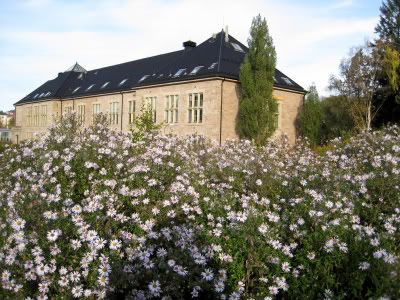 Botanical Museum.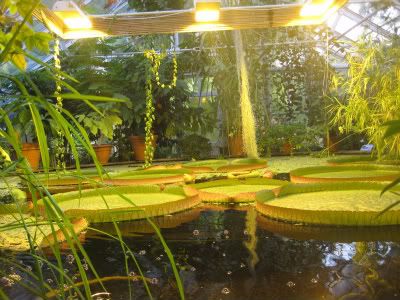 The view.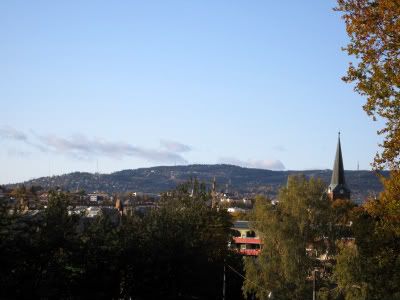 I wandered over to the Ver Frelsers Gravlund memorial cemetery where Henrik Ibsen and Edvard Munch are buried. I'm so morbid for loving grave sites as much as I do, but for me this was definitely the highlight of Oslo sightseeing. It was a typically freezing Nordic afternoon, yet I still managed to meander its immaculate graves for about an hour. Ahh the picturesque change of seasons, all the gorgeous graves, and being the nerdy literature/theatre lover I am, made sure to follow the entrance map to find Ibsen's grave...
The Three Sisters
was the first play I read/saw in college.

Oh, and the whole experience was hauntingly amplified by listening to
The Painted Veil
score on repeat. My favorite track:

"River Waltz"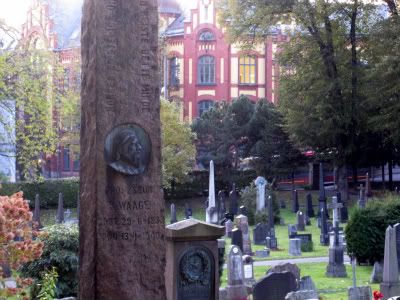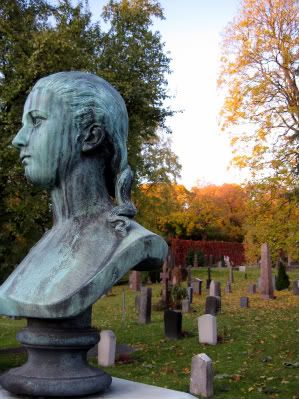 The prettiest.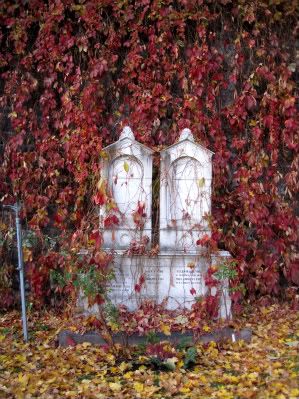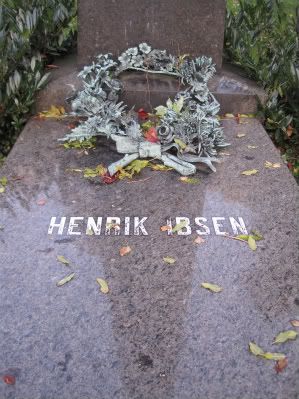 It was already starting to get dark by then, so after a little shopping (and a sweet graffiti sighting) I found my way back to the hostel to ask for cheap restaurant suggestions from reception.

Sweet graffiti sighting.



Apparently I asked the right girl because she eagerly responded with a cheap, nearby pub called "cafe saawwrraa." I couldn't really tell what she was saying through the thick Norwegian accent but followed her directions and found myself here: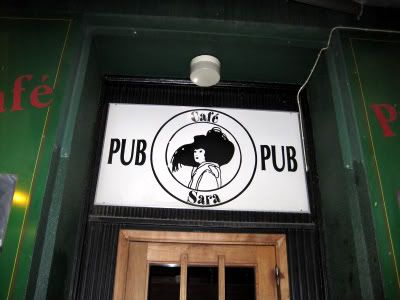 No 'h' but still perfectly appropriate. I proceeded to have the best meal I'd had abroad yet, and it just so happened to be called the 'Sara Special.' hahaa.

That's right, I took pictures of my meal...crazy American.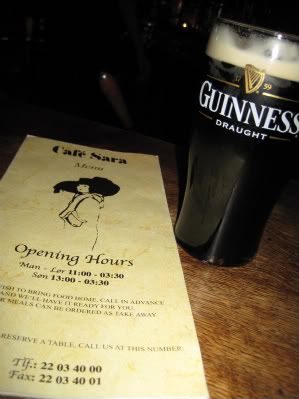 Sara Special.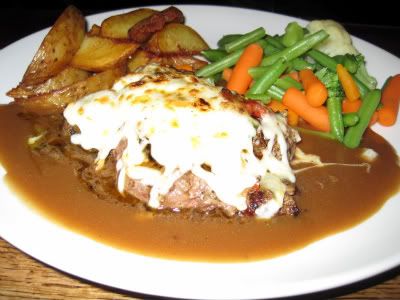 I got back to the hostel around 9 and lamely went to bed a half hour later because Bex, Yvonne (the Scots) and I made plans to get up bright and early to find the Viking Museum. Aside from the Sara Special these two girls
made
the trip. Absolutely hilarious, and great fun listening to their Scottish brogues all day long--a mixture of 'ayes', slang, and witty banter that had me feeling like I was still listening to a different language. Awesome. We didn't get out as early as we'd hoped, and ended up getting kind of lost trying to find an allegedly free ferry to the next island over where the Viking Museum was. Unfortunately the ferry didn't exist so we had to take a slightly more expensive bus, but our detour at least offered a cool view of the pier.




The Scots ;]



The Viking Museum was seriously anticlimactic, but I think we were all pleased to say we'd given it a shot. The ships were pretty cool, and I have Scandinavian heritage so who knows if one of my great, great, great, great, great, great grandmothers was kidnapped and wed by some rusticly handsome Norseman on one of those ships..

I've got a romance novel imagination.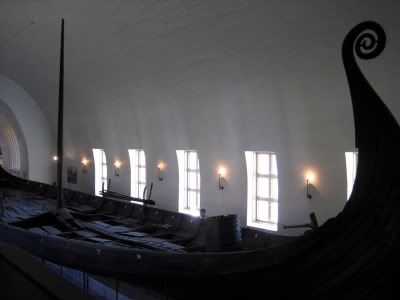 "We.are.so.excited.to.be.here."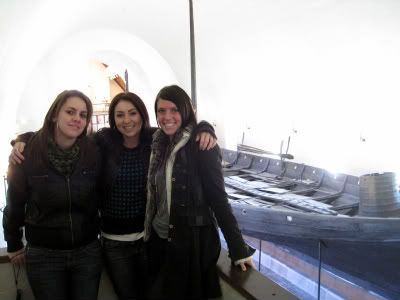 After the museum we took a bus over to the Vigeland Sculpture Park which was a slightly strange miasma of naked bodies in different poses. Cool to look at it and even more fun trying to imitate.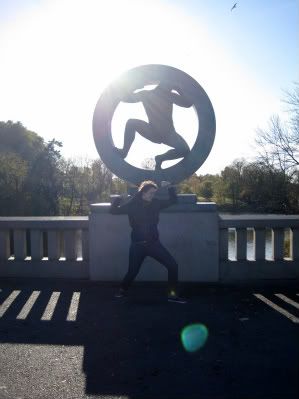 My favorite.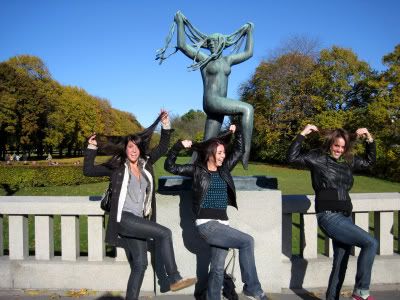 Vigeland.



We did a few more touristy things like walk down Karl Johan's Gate, the Michigan Avenue of Oslo, as well as take pictures with the royal guard in front of the Royal Palace.
A pretty exhausting day, but I was proud of us for having seen as much of the city as we did in such a short amount of time.

Karl Johan's Gate.



Royal Palace.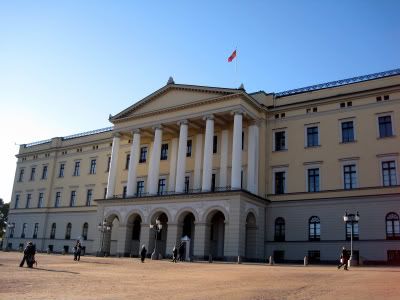 Smirky guard...he broke!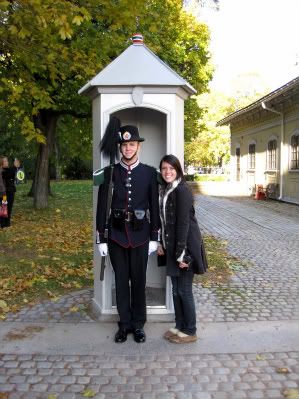 Neither of the girls felt like going out that night, understandably, so I decided to have myself a rather fancy time drinking martinis at the Radisson SAS Plaza down the street from my hostel. My brother in law Philip had been in Oslo the week before, and this was one of his primary suggestions: "There's a bar up on the 34th floor that you can go to for free and see out over the fjords. I recommend going at sunset or later in the evening... you can see forever." He certainly was right, talk about an aerial view. Once again I sat there alone, looking at the endless, electric city, sipping Akevitt (another one of Philip's suggestions: cinnamon/liquorice liqueur made from potatoes), and talking with Ash across the world about her eventful evening. She made me think of it, so I decided to whip out the notebook she'd given me for my birthday and jot down how I was feeling:

"34th floor Radisson upon Philip's suggestion, texting Ash about all the Rockford current events (wink, wink)...this view makes me realize that I'll probably never do this again...I feel very Katie Couric, very Carrie Bradshaw, or maybe I just feel like an ordinary Rockford girl with an absolutely intoxicating view of downtown Oslo on a Saturday night, and I should stop writing by candlelight...."




It was a good beginning to the night because I ended up having a blind date with a friend of Jenny's named Emily who'd come to Oslo by herself too. She was staying in my same hostel so we went out for a few drinks and enjoyed Norwegian nightlife.

P.S. Everyone in Norway looks like Heidi Klum, such a beautiful race of people.

Me and Emily.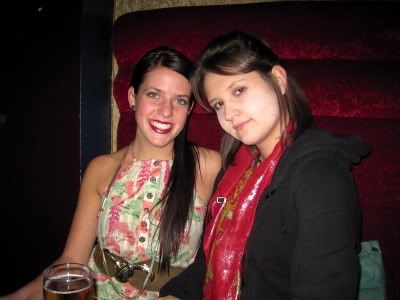 On the bus back to Paris I sat next to one of the Parisians who'd been in my hostel. I successfully held an hour and a half conversation with him in French, and he made sure to tell me how impressed he was that I'd managed to enjoy a vacation in Europe with

new

friends all by myself.

I was kinda proud too.

European travels to be continued...next stop, PRAGUE.