So where did I leave off...ahh yes, the grandiose eiffel tower. I do believe I was listening to the song below when I first got off the train at Bir-Hakeim. This was the only mediocre shot I could get at the time, seeing as it was 9:30 p.m., but I was hoping to somewhat capture my first viewing.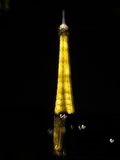 I met up with my friends Lauren, Mary Margaret, and Katia who were excited to see me despite my half-hour tardiness. [Skype date with Rach ran long due to much needed bouts of "OMG this, and OMG that"...surprise surprise.] We'd intended to worm our way through the crowds to find a grocery store that might still be selling cheap wine and dinner, but upon entering the main square we were immediately engrossed with the tower's luminescence...I really haven't

ever

seen architecture so gorgeous. I'm glad I can look back on my first encounter and be able to say it was nocturnal. That thing is AMAZING in the dark. Instead of navigating our way through the masses, we ended up a part of them assembly-line style, and it was mere minutes until we were at its base chirping with amusement. [I didn't even make it to the entrance of the park without having to stop and take pictures, hence all the trees that border my photos..made for an artistic gesture I suppose, see below.] By this point it was 10 p.m. and we still hadn't eaten dinner, so we decided to [alas] make our way back toward the train station to find that silly grocery store. We were interrupted by Monsieur Eiffel's 5 minute light show "every hour on the hour" which basically consisted of flashing lights that covered his monument base to point [shades of a giant, magical, metal Christmas tree]. I felt like I was in Disneyworld, only fewer small children and no obnoxious Cinderella parade--way less Epcot and wayyy more..."Dude, I cannot

believe

I'm in Paris." It certainly was beautiful, talk about the city of LIGHTS...

Later that night after having met up with my friend Katia's acquaintances in the Latin quarter [a number of other study abroad students, one Norwegian, one Bosnian, and one Swiss, all speaking

perfect

English mind you...très jalouse, je veux être bilangue] we made our way

back

to the Eiffel Tower for more grocery items/photos on the bridge over the seine [I forget the bridge's name].
I really don't mean to sound so corny, but this was the scene:
all 10 of us gathered in a turnabout on the seine to gaze longingly at that handsome monument, a few smoking cigarettes,
a few drinking wine out of the bottle
, a few laughing, dancing, or frolicking around....and

this

was the best part of the evening--not since I was 12 years old leaning horizontally into the raging wind on the deck of our family's ship tour of Norway's fjords had I felt so international, soo free, so

privileged

.

I really am exceptionally grateful first of course to God for this awesome opportunity and how He's already blessed me greatly here...and also to everyone else who helped me along the way: financially, emotionally, and spiritually supportive. [This is me on my soapbox, just for a minute.] I don't even know if I've taken the time to say to my parents, my grandma, my sisters and their significant others, my aunts and uncles, my cousins, my best friends both in Rockford and Chicago, and any random person I've told about this trip who's been SO excited for me that I am sososoSOO happy I have you in my life and that you're cool with me doing this...that you're genuinely happy for me and where God might be leading me in all of this..

so thank you..from the bottom of my heart.

Love you all and will write very soon about the rest of that evening, Véronique, Luxembourg Gardens, and Montmartre/Sacré Coeur...[sheesh, it's already hard to keep up! ..I'm

not

complaining ;]

à bientôt.