So after a slightly stressful day, I'm finally well-nourished enough to sit down with a glass of decent red wine (Lalande de Pomerol...Véronique's choice) and pick up where I left off last night. But before I do, not-so-quick anecdote: let me just say that living in Rockford the four months before I came here made for an

excellent

summer but totally retarded my city-living capabilities. I had just found out that two of my classes are basically the exact same thing (same professor, same film critiques, but apparently different homework? UIC better still accept credit for both courses..don't worry Mom and Dad, I'll send out some e-mails), when I poorly decided to stop and buy "

just

eggs, Sarah" in my school's neighborhood. Alas, I should've used precaution in how much time I alotted myself in the store because I ended up with four heavy grocery bags needing to be lugged 45 minutes home to my apartment. Now, in Chicago I'd like to say I've grown out of doing this, but who knows. I'm obsessed with groceries and bad with dimension. Aside from this, [and totally sweating by this point] I had to awkwardly stop at the Phone House and put more minutes on my French phone which resulted in a number of confusing automated-French directions. The phone guy was helpful, but found it appropriate to give me a French lesson on using the 'vous' form of 'you' rather than 'tu' because vous is more

respectful

...bahhh. He said it nice enough

I guess,

but I still tend to feel condescended when something like that happens. I suppose they really are just trying to help.

My train ride home was even more awkward due to grocery overload, but this song kept me sane (and has been doing so for the past couple weeks).

So thanks for all the Owl City, boy..maybe I'll buy you a diamond in return [or at least some creme.]

P.S. This video was the corniest one I could find lol...love it, love the song.



Soo back to my very relaxed state, it's time to embellish on the events of Saturday September 19th, 2009. I woke up to a text from Mary Margaret at 2:30 p.m. (it was a very late Friday night, when in Rome) that said, "I'm at the techno parade, this is CRAZY!!!" I had totally forgotten that this was going on, so I was mid-lipstick application out the door faster than you can say "grab your glowsticks." The mile-long train of floats had passed her by the time I got to Denfert-Rochereau so we were sweating bullets thinking we'd missed it. We eventually stopped to ask a policeman where it had gone after we'd realized we were on the wrong street (never thought knowing "defilé" as the French word for parade would

ever

come in handy). Around 14:00 (stupid military time..) the ground started to shake and we could hear a precarious thumping in the near distance so we knew we'd found it!! Amidst a Paris avenue of empty beer cans, broken glass, stoners climbing up light posts, streamers, technicolor wigs, shirtless bros dancing on bus stops, confetti, cans of glitter spray, neon, adidas sport pants, dreads, and ripped up glossy night club flyers we found ourselves to be the only 100% sober attendees, jumping along to the Black Eyed Peas with THOUSANDS of techno junkies. Pretty wild.



"What is going on??"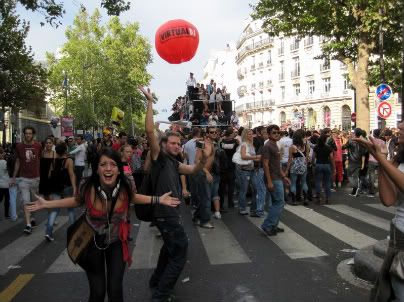 ;]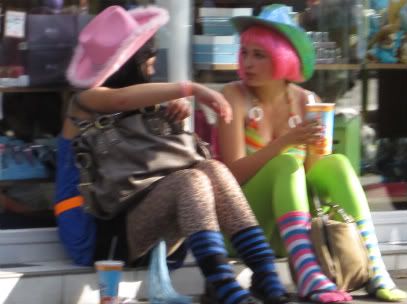 Ridic.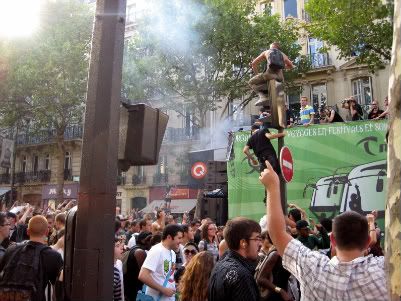 Hahaa..you're never too old for the techno parade (note: adidas pants)

Notre Dame, I think.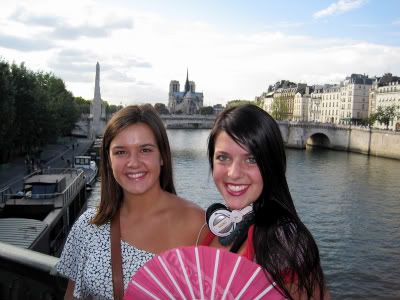 The Bastille..I reeeally wanted to get up there.


The video doesn't even completely do it justice what with its terrible quality, and t
wo hours later we ended at the Bastille incapable of processing what we'd just experienced. Ha.
But it's very appropriate that this song was playing when we first arrived because it really did end up being a good night. I went straight from the parade to meet up with my friend Claire whose host brother's band

Burning Box

was playing at a local venue nearby. I was so excited because I hadn't been to a metal-core, screamo show since my

Killer Apathy

-slash-

The Day Death Stood Still

bandslam highschool days. Claire's faux-bro Massimo and all his friends are super sweet, totally patient when it comes to our Frenglish, and they ended up being an AWESOME set. Claire and I danced like school girls to what I'd previously described as the French interpretation of

Rage Against the Machine

at a French concert venue, complete with French disco ball and French friends (only all of their lyrics were in English, go figure).

Claire.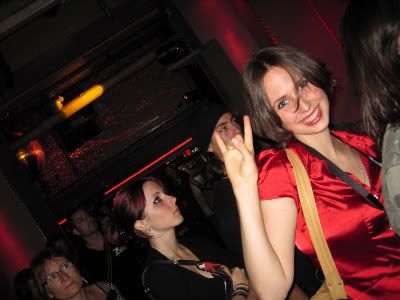 Me.

Burning Box.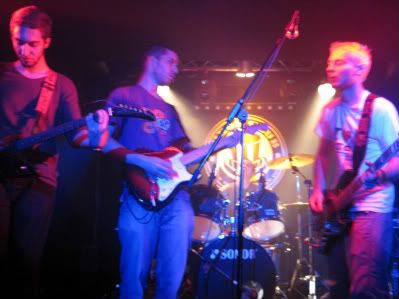 Massimo.

Disco Ball.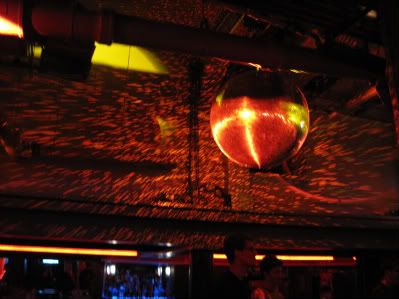 More new friends.



All in all, I'd say 19/09/2009 was the best day I've spent here thus far.
P.P.S. Fun French Fact: Apparently the day comes before the month when number dating in France, FYI :-P