So these fun-tastic, three and a half day weekends are going to make for difficulty in the consistent blog updating department, but I'll do my best. Isn't that excellent news though? I'd originally been under the impression that I would have field studies every other Friday for my history of Paris course, but apparently they're every other Thursday now. This will be the very first semester of my college occupation with free Fridays! eeeep!! More travel and more days to sleep in equals a more pleasant Sarah Larson.

Fortunately (and I daresay slightly irresponsibly), last week's jaunts were not limited to my three day weekend, which brings me back to the eve of the Eiffel encounter. After a number of photo-ops were dangerously attempted in the middle of the street (hey, it was the only way to fit in 10 people as well as the Seine, so no judging) all of us followed Swiss Simon (pronounced

See-mo

) to a ridiculously overpriced discotheque he knew about called

The Social Club

: 15 e cover charge...I was slightly less than pleased. However, I think there was a minimally famous d.j. jacking up the price, and his set ended up being

really fun

so the crowd offered an excellent dancing scene (plus this place had glow in the dark ice cubes...need I say more.) All in all, I think the $23 American dollars were worth it, though I don't plan on going back any time soon.

The turnabout.



In the street..totally blurry.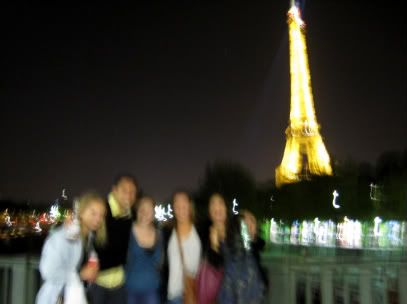 New friends.



The following Monday, a few of us girls wanted to see the Luxembourg Gardens, which I unfortunately did not have my camera with to document, but it was a splendid journée wandering around the lush foliage nonetheless. My friends Mary Margaret, Heather, and I leisurely sat and talked about home, college, previous experiences abroad, and IES staff member Bertrand who every girl wants to hook up with (whom

i

think is slightly obnoxious, but I guess that's the Parisian way) all over dixie cups of espresso (there were two coffee stands and let's just say the cheaper one was by no means cheap, despite the paper demitasse). Anyhoo it was good bonding time, and I can't wait to go back for more photo-ops, weather permitting.

My next afternoon was certainly no less full seeing as I spontaneously joined a guided tour au quartier Montmartre. Thankfully Pierre, the IES staff member who slapped my integrity when I lost the group at Musée D'Orsay, wasn't our leader on this excursion; however, Charles (pronounced

Sharle

) was neither happy nor go-lucky when he found out our tour guide was going to be a half an hour late. I was thankful because it gave us time to stop and take pictures of Sacré Coeur, something we didn't end up having a whole lot of time to do throughout the day...the tour was go, go, go--five minutes here, ONE picture there. But I was glad I went because I learned a lot about the area that I would've never known otherwise. Our cute 'n savvy, late fifties femme guide provided us with quirky anecdotal evidence proving Montmartre was

the it-place

during the late 19th century. We saw Le Moulin de la Galette and La Maison Rose (both popular artists' hangouts), Pablo Picasso's 'garçonnière' Le Bateau Lavoir (dorm-style housing for young men), famous French singer Dalida's home (she and her three lovers all committed suicide....??) as well as Saint Pierre de Montmartre cathedral

and

the market Amelie worked at in the movie! It was also great watching all the sketch-artists at work...mark my words, a portrait of mon visage will be done before I leave this place ;] My favorite part, however, was a sculpture done by Jean Marais based on Marcel Ayme's legend of a man who could pass through walls. Story goes he got stuck once while running from his lover's husband and is forever trapped in Montmartre. Come winter time, a love-jaded passerby may even see him cry.......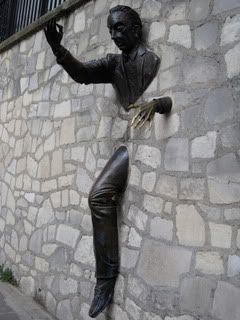 Sacré Coeur..I'm very proud of this photo.



A couple nights later I went out to a pub called 'Le Frog et Princesse' conveniently situated on rue de Princesse with some friends from the Montmartre excursion. There were lots of people from my program there, but I spent most of the night speaking Frenglish with a couple local boys who bombarded me with "You're an American?!?!?! eh, EH Celio!!--Elle est Americaine!!!!" (they

claimed

they were 20 but I doubt they were any more than 17 hahaa). They were fun though, mostly because they treated my friends and me like we were freaking celebrities. I was proud of my broken French by the end of the night and couldn't believe how good their English was either.

Left to right: Ben, Celio, Tristan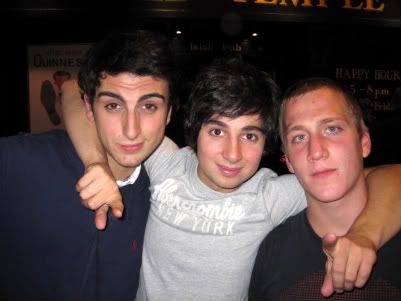 My free Friday afternoon was spent on a day-date with Mary Margaret who'd invited me to the Louvre. I got there before her and promptly bought myself some Starbucks (I've been doing pretty well staying away from American chains, only cracked this time and one other when Subway just looked too good to pass). Whichever way I chose to exit the Palais Royale de Louvre metro stop was the best way because I found myself on an extremely Euro looking escalator that brought me up to ground level

inside

the pyramid. I realized too late where I was and decided to go back down the escalator to take pictures coming up from where I'd been (I know, I know-laaaame tourist move), but I'm glad I did because you could see out all directions at the surrounding palace.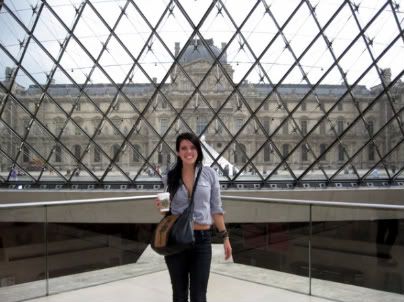 Mary Margaret got there a few minutes later and ran into minor security issues when the guard told her she had to leave her 'knife' at the entrance (..it was a wine opener..lol). But boy-oh-boy am I glad that my first Louvre experience was with her. Don't get me wrong, we can appreciate us some awesome art, and she knows a lot of interesting factoids from previous art history courses...but let's be honest folks: it all starts to look slightly the same after a while, and it's much more enjoyable to be with someone who doesn't take it all so seriously. Throughout the course of the day we got pictures of one Venus de Milo, one Mona Lisa, seven Napoléon III apartments, two mullets (one fashion, one fug), one 16th century midget, and one code of Hammurabi, which we're

preeeetty

sure we've cracked. After four hours of seeing maybe 1/37th of the Louvre, we were pleased, parched, and pooped, totally ready for some café food which we ended up eating on the Louvre lawns...very successful day indeed.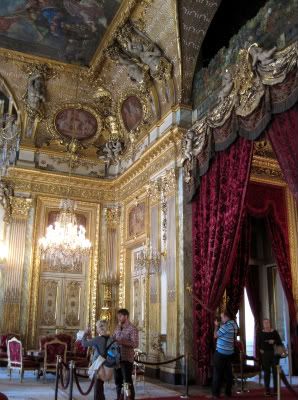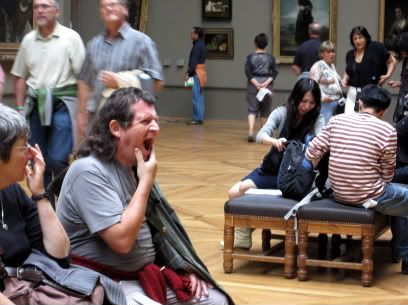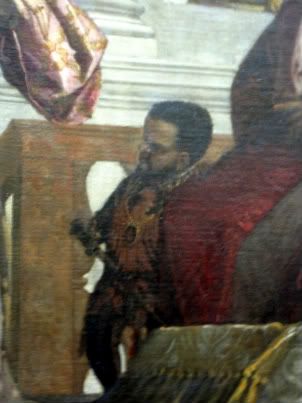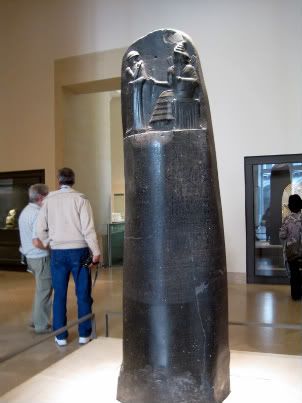 Later on that night we met up with some of her friends who were in town for the weekend from studying abroad in England and Italy. It was fun listening to their interaction, and it made me miss my friends very, VERY much (only a couple more months Mom, Dad, Erika, Rach, and Ash!!). We went to a small pub near the Bastille with some IES kids and later ended up at one of my favorite bars here yet...le Furieux, upon suggestion of my friend Claire's 'host brother' Massimo. He's our age, and I was excited to meet him because Claire had invited me to his band

Burning Box

's rock concert (think Rage Against the Machine, French style). Wow, what an experience

that

was...let's just say that needs a blog unto itself ;]

Oh, and so does the 2009 Paris techno parade Mary Margaret and I went to yesterday....ha HA. [There's some video so get excited friends.]

Weeeellll for now I'm to bed because my Theatre of Paris class is way earlier than I'd expected. First week of real classes, wish me luck!