So two days ago I went with my sister Erika and bro-in-law Philip to a miniature art fair at Red Light Brewery in Winter Park, FL. There were hand-made accessories, crepes, and vintage galore, but what stood out to my eldest sister and me the most was the vast array of trendy cupcakes.
Cupcake earrings, cupcake embroidery, clay cupcake ornaments...
and just plain CUPCAKES.
Well, not exactly plain...
Erica and Emily of Bee's Knees Bakery catered the event with their ever-so-delectable morsels of cream and cake in a cup.
We tried: Pink Pretty (Strawberry cupcake with strawberry cream frosting)
and would like to try: Orange You My Honey (Orange and honey cupcake with orange cream frosting)
Philip also surprised us at the office last week with a box full of Blue Bird Bakeshop's cakes. Red velvet and apple...I think I had one of each.
Oops.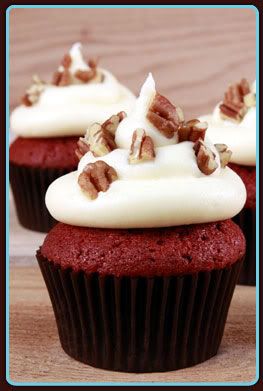 And now for a little cupcake theory [as promised] by trivia lord Wikipedia:
"A cupcake is so named because it is a small cake the size of a teacup. In previous centuries, before muffin tins were widely available, the little cakes were often baked in individual pottery cups, ramekins, or molds. The name fairy cake is a fanciful description of its size: an appropriate size for a party of diminutive fairies to share. Recipes for "cup cake" — recipes whose ingredients were measured using a standard-sized cup, instead of weighing the ingredients — have a confusingly similar name. These cakes could also be baked in cups; however, they were more commonly baked in tins as layers or loaves. In later years, when the use of volume measurements was firmly established in home kitchens, these recipes became known as 1234 cakes or quarter cakes, so called because it is made up of four ingredients in equal ratios; butter, flour, eggs and sugar. They are plain yellow cakes, somewhat less rich and less expensive than due to the reduced proportion of butter. The names of these two major classes of cakes were intended to signal the method to the baker: "cup cake" uses a volume measurement, and "pound cake" uses a weight measurement."
As Queen Marie's old adage went, let them eat [cup] cake...