So I cannot believe it, it's already been a MONTH since my Mama, Daddy, sister Erika and bro-in-law Philip were here in Paris!! This past month has seriously

flown.



It was a really special time with them, and even though they were here for a week it still didn't feel like long enough! My Mom and Dad got here a couple days before Erika and Philip so we took it easy the Saturday afternoon they got in by wandering around my neighborhood in Oberkampf. We had a leisurely lunch at the Metro Cafe in order to efficiently catch up on life. I was soo relieved to be with them. I had the pleasure of relaying the message that Veronique, my host mom, had invited us all to dinner the following Tuesday so after lunch we decided to find a couple nice bottles of wine. They were surprised at my comprehension of the clerk's description of the difference between 'dinner' and 'after dinner' white wines. I did my best to impress with what little language capabilities I've achieved ;]

That night we wandered around for a while in search of a good restaurant and found the typically and adorably French Bistrot des Vosges. Think gingham tables cloths, 40s French film ads, bric-a-bric partout, super friendly waitstaff, AND a famous house onion soup that was even more flavorful the second time around (that's right, we took Erika and Philip back the first night they were there). Very successful first night with Dave and Suse!

The next day was just as successful as we spent the entire day on the Champs Elysée!! (Duh.)



Daddy and the Champs
Elysée.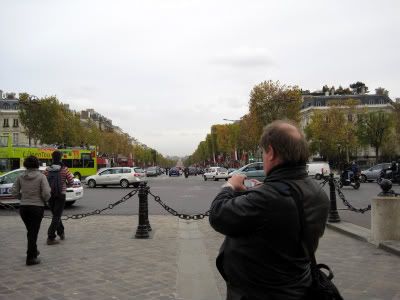 This was the first time I'd even seen the Arc de Triomph so the three of us were tourists all together.




Pride.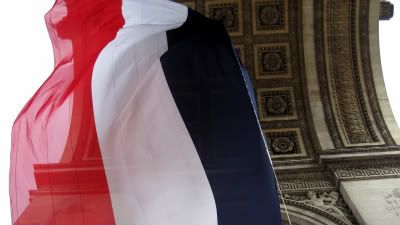 We made our way huffing and puffing up the Arc's 284 steps (spiral steps, mind you) only stopping a couple of times. Fortunately there was a mini-museum half way up that gave us good reason to stop and catch our breath (and take pictures of course).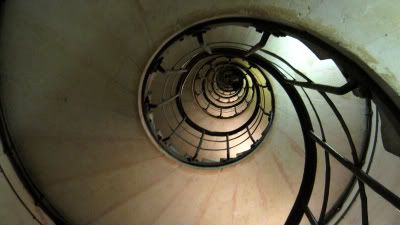 "Only 247 left to go guys!!"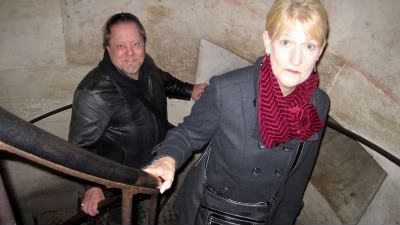 lol.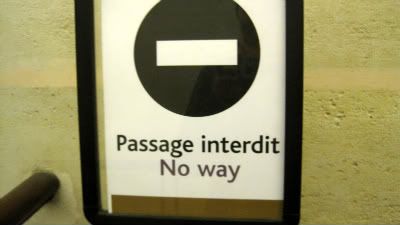 Tomb of the Unknown Soldier.



The Unknown Soldier.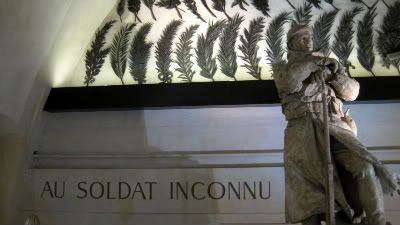 Couldn't resist.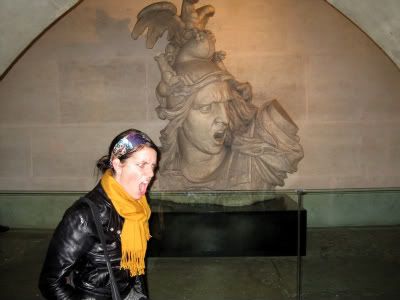 Finally at the top we saw a beautiful view of the five avenues that emerge from the arc in the shape of a star, hence the name of nearby metro stop "etoile." Napoleon and Barron Haussman did a pretty impressive job of designing the city, I must admit. We took our rime enjoying the view before deciding to conquer the descent, not bad considering the way down aaaaaalways goes faster than the way up.


Eiffel.



Eiffel and Parents!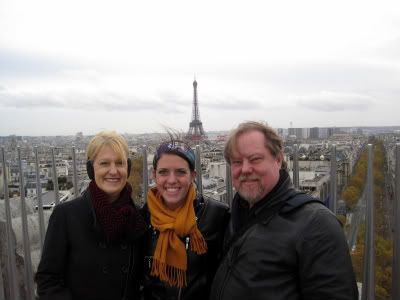 C.E.


We then decided to fight the crowds down the Champs Elysée, stopping a couple of times in the Pugeot and Mercedes dealerships (for muh daddy) and then a couple more in some uber-kitschy tourist shops (for muh mama and me, though I think he enjoyed himself ;) We got pastries and coffee along the way in order to rest and do some people/pigeon watching and eventually found a cute Italian restaurant for dinner where we got a window seat on the second floor, perfect for viewing the bustling avenue. I suggested picking up some macaron cookies for dessert from the famous Laduree, which took a while to find but definitely turned out to be worth it. Our flavors-of-choice: raspberry, chocolate, caramel, and rose-grapefruit. Yummy stuff.

Unfortunately the night ended rather dramatically with an obnoxious encounter with the RATP metro police. I completely forgot that they do this, but every now and then they'll stand at the exit of the train stop and ask to see every passenger's train ticket as proof that they actually paid to get on. I guess turnstyle jumping has turned into a big problem. I forgot to tell my parents to hold on to their stubs until the end of the ride, so unfortunately they had already thrown them away when we encountered the police. Being the hopeful that I am, I figured the guards would be kind and understand that we're not from the area, didn't understand the rule, never saw any signs directing passengers to keep their stubs until the end of the ride (oh wait, there aren't any), etc. etc. etc. However, they were not kind OR understanding and still charged them a huge fine for not having the stubs. DUMB. The whole thing bothers me to bring up, but that's just the way it is here in Paris a lot of the time I guess. Unfortunately people really do live up to their stereotype of French rudeness. Not everyone of course, but some...especially RATP "police." Glorified mall security guard if you ask me...

(vent, vent, vent.)

All in all it was still an amazing day with a night that challenged our already excellent experience, so we decided to let the whole thing go and concentrate on the excitement of the rest of the trip. I've got pretty amazing parents for putting up with all of that with a good attitude!! (Maybe it was the triumphant arc that prepared us...or maybe just the triumph of getting up all those steps ;)

The next day got instantly brighter when the beautiful Huenekes showed up in town! But I'll save the rest of the week for later.

Night folks, I get to see my best friends (minus Lyssa) in 9.5 hours!! eeeeeep!!!

And Lyssalou, if you're reading this, know that I love you, miss you, and wish you were here sOO bad. Be expecting some pretty awesome consolation presents on our behalf ;]]