So I saw my lovin' in Leuven friend Jenny for the first time since I've been back in Chicago not too long ago, and it was sO amazing to see one of the people I bonded with so dearly while gone. En fait, she was the first European buddy I've seen at all (besides my best friends of course). Don't ask me why it took Jen and me two weeks of co-habitation in Chicago to get together, but it did. And it was a glorious reunion, let me tell ya. I pretty much tackled her in a hug, and neither of us could believe that the other was physically standing right there. It had been almost two months, after all. We chatted about life at home, her reunion with her boy, my reunion with mine, and a few other important catch-up items on the it's-been-far-too-long to-do list, but then conversation instantly got nostalgic.

"Ohh my goodness, the last time I saw you we were in PARIS."
"Yah..I know, Jen..absolutely INsane."

I couldn't help but be reminded of the first time we'd seen each other in two months in the Belgian equivalent of a Quizno's..."Jenny?! Ohh my goodness, it's so good to see a friend from home in Europe!" And then again, outside the Oberkampf stop at the Metro Café in Paris. Funny how life works.

Jenny and I always find ourselves being dramatically relieved to see each other after a significant time apart, and that night at Oberkampf was no different. Her and Horacio had gotten there earlier in the afternoon and had already seen the Eiffel Tower, Notre Dame, and the Louvre. I was detained by my program's Thanksgiving dinner, which was good in the turkey and green beans department but left some to be desired in the "bread" stuffing department...try weird spam paté. I successfully met up with J and H around 10:45 p.m. sans communication devices, plus de Mary Margaret. We grabbed a couple of drinks at one of our jaunts Le Café Bicyclette and wandered the wrong direction down Oberkampf to end up at a trendy bar that closed 15 minutes after we got there.

Funny story: Jenny had just been to a city outside of Brussels where the intense cold made it so that she and Horatio could go ice skating at an outdoor Christmas village. Problem: Jenny didn't have any socks. After a long time of visiting multiple shops to see if anybody had a pair to spare*, she finally found success and could go skate. (And she got a pretty cute picture of herself doing it, I might add.) Just before leaving that trend bar in the Marais's Oberkampf, a bartender asked, "Est-ce que vous avez perdue des chaussettes??" He was asking our foursome if any of us had lost socks and held up a pair of women's the same size as Jenny's petite foot. What are the hilarious odds that such a fortunate offer would come just a few days too late?

"...SOCKS."

The next day was a whirlwind tour of the city: back to the Louvre for a view of the Mona Lisa, Nike, Venus de Milo, and Napoleon apartments, up to Montmartre to see Sacré Coeur, over to the Arc de Triomph and a walking tour of the Champs Elysée, and then back to Montmartre for dinner before we met up with Mary Margaret at the Bastille for drinks at Bar des Familles. [Whew] My favorite part of the day was our visit to Sacré Coeur (surprise, surprise) where we hung out on the cathedral's steps for a much needed break and listened to a young duo of English fellows performing covers of "Johnny Be Good" and Damien Rice. They were surprisingly good so here's a sample:



The lovely Nike.



Jen and Venus! (or is it Aphrodite...)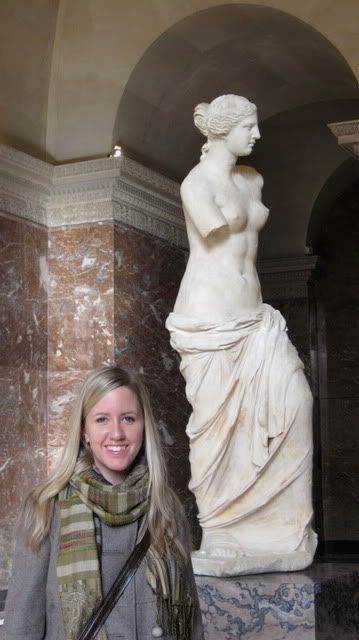 My new favorite painting at the Louvre: Anne-Louis Girodet de Roussy-Trioson
"Pygmalion et Galatée"


We decided this was Jen and her boy Manny...same color hair (respectively) and loving affection~~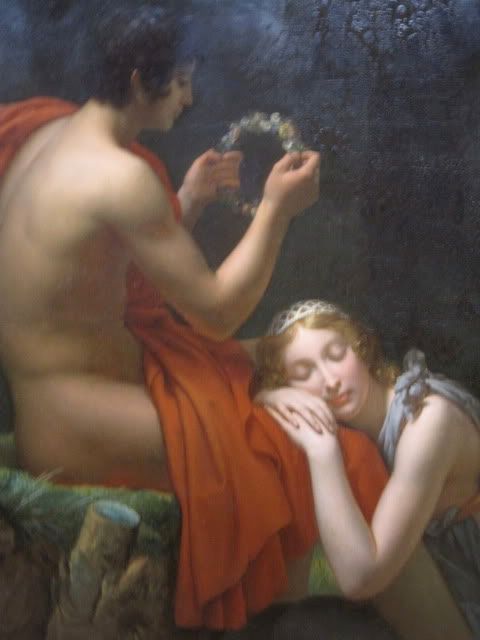 Les Jardins de la Butte.



My beloved basilica.



Probably the best picture I took while abroad.

C'était un Rendez-Vous.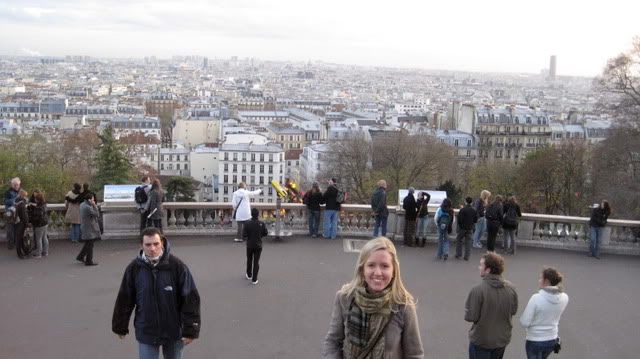 Champs-Elys
é
e.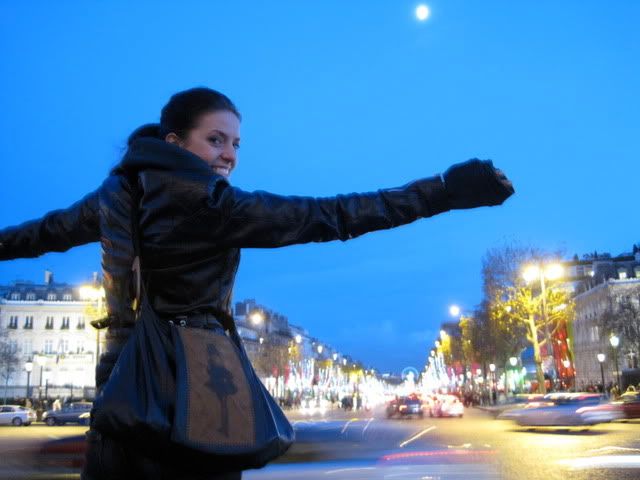 How I miss this.


The three of us celebrated their last day with a chilly day picnic of bread and camembert at the Eiffel Tower. I saw them to the Oberkampf stop where we said our bittersweet good-byes and anticipated what it would be like reuniting in Chicago. Horacio and I were thankful tourist and guide (respectively) for sharing such an awesome experience, and Jenny and I decided that we should have been close friends a long, loooong time ago.




The same sentiments were shared at the bar in Lincoln Park, and she reiterated the fact that Horatio was impressed with how composed I had been that weekend in grandiose Paris. I could certainly look back on that weekend with pride myself. And what's more, I appreciate our accomplishment of having a grasp on such a big place. Those monument visits would be some of the last before I came home, and I was glad their company forced me out of bed and out into the city.

Now I all I need is a French friend to come visit me in Chicago to have the same motivation. This place is just TOO COLD!**

*Seinfeld.
**Friends.

;]




Post Script.

Ironically, I came across this video just now looking for the name of the gardens at Sacré Cœur. Snow Patrol took footage from a short film by Claude Lelouch called
C'était un Rendez-Vous

for their video "Open Your Eyes," where both the concept and words are a fitting description of the weekend I spent with Jen and Horacio: fast-paced, eyes wide open, and our exact route, starting at the Louvre and ending at the basilica. On top of that, the beginning guitar cords remind me of "I Gotta Feeling," which only reminds me of my beloved techno parade

also

in the streets of Paris.

So many full circles, I just love it.


Snow patrol open your eyes



Uncanny resemblance.



Maclet Elisée